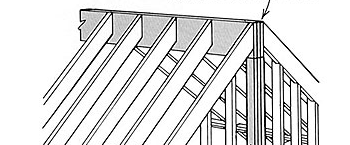 Normally with vaulted or cathedral ceilings you would start insulating from the top and work your way down. The batt of insulation is butted against the ridge beam (peak). Because of the angle you will have a small triangular area that could use more insulation where the batt meets the beam. Using pieces of scrap insulation would be perfectly fine. Be sure to remove any kraft facing (paper) first. You would want to place the scrap pieces for a snug fit but don't mash it down or it will lose some of it's R-Value.
Speaking of scrap insulation, sometimes there is a lot of it depending on the project. When insulating new homes we used to pride ourselves in not having too much scrap and stuffed it in different areas such as behind bath tubs, smaller odd shaped wall cavities, etc. A good insulation job should result in only a handful, if any, scrap when the job is done.
Getting back to your question, you will have added extra insulation near the beam by using the scrap. This isn't normally done so you're taking an extra step in adding the additional insulation and it will help reduce air flow. Good luck with your project.
Related Tips and Advice:
Resources Contact Us Terms of Use Privacy Policy Add A Link Sitemap



Copyright 2007 - 2014 ©, J. Holt & Associates, All Rights Reserved