First, you need to figure out where the leaks are coming from. Light a cigarette or a incense stick and hold it next to any area that may have contact to the outside. It's best done on a windy day if possible. Doors, windows, plumbing fixtures and electrical outlets are all good areas to test.
Here are some tips to reduce air leaks in your home:
1. Shut that fireplace flue when you're not using it. All of your heat is going right up the chimney. On the reverse end of it cold air enters it and comes into your home.

2. Switch plates and outlets need to be sealed. Stop air flow by inserting rubber gaskets behind them.

3. In areas where wiring or plumbing comes through your outside walls make sure you use caulk to seal the air leaks.
4. Do you have storm windows? You may want to consider installing them if your existing windows are leaking air badly.
5. Are your doors weather-stripped. It's actually a easy fix that will greatly reduce air infiltration into your home.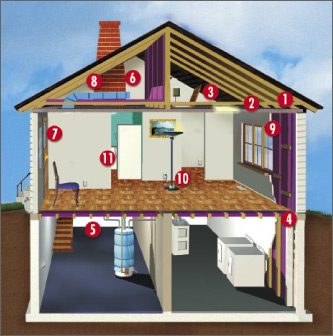 1 Ceilings that drop

5 Flues for furnace and water

9 Window frames

2 Light fixtures that are recessed

6 Ductwoprk

10 Electrical outlets and switches

3 Doors for attics.

7 Door frames

11 Plumbing and utility access

4 Sill plates

8 Chimney flashing
Related Tips and Advice:
How To Insulate Your Attic With Fiberglass Batts or Blankets
How To Install Blown In Insulation In Your Attic
How To Insulate A Concrete Wall
How To Insulate Ducts
Photos Courtesy of U.S. Department of Energy