You're going to need to frame a wall. I would use 2" X 4" lumber built flush to the wall. This will allow you to install insulation up to a value of R-13. I would also frame it 16" on center. The top plate can be nailed to the bottom of the joists and the bottom plate will need to be fastened to the concrete. Cut each piece of 2" X 4" separately, use a level and install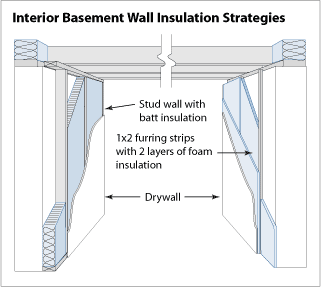 the studs 16" on center. Depending on your situation, you may be able to build the wall on the floor and lift it up and secure it in place. Once completed apply a bead of caulking to the bottom plate, top plate and the studs at each end to seal all gaps.
When insulating a basement wall you could use fiberglass batts or blankets. I would recommend using rigid foam board. It has a higher r-value per inch of thickness and resists moisture better than fiberglass. You can buy rigid insulation in dimensions of 2' wide and 8' long. Use a straight edge and cut the rigid insulation to fit the wall cavities. Use two layers of insulation and make sure the second layer overlaps the seams of the first layer installed.
Once the basement walls are insulated, you need to install a vapor barrier. Using a staple hammer attach a sheet of 6 mil plastic to the wall by stapling it across the top plate and going down the face of the studs. Staple about every 6 inches and when you get down the bottom plate staple down the length of it as well.
That's it. The insulated basement wall is now ready for drywall to be installed.

Photo Courtesy of U.S. DOE
Related Tips and Advice:
How To Prepare Your Basement For Insulation
How To Remove Moisture From A Basement
How To Insulate Basement Walls
How To Insulate A Concrete Wall