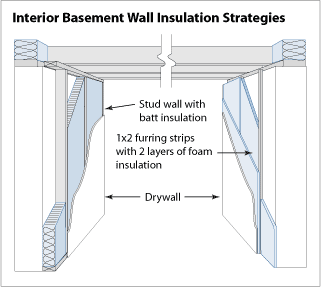 When using furring strips you should be installing rigid foam insulation. The furring strips come in bundles and can be easily cut. The rigid foam insulation is usually panels of 2' X 8'. Head on down to the local home improvement store and get some 1"X2" furring strips and 1" rigid foam insulation board. Make sure it as one side that is fire rated. Pick up some concrete sleeve anchors and 6 mil plastic also. Next, get on down to the rental store and get yourself a hammer drill.

Cut all furring strips to fit the basement walls. If your basement walls don't have a flush surface you'll need to use shims to get proper alignment. You want to install the furring strips to the basement wall so they are 24" on center. Don't use that adhesive stuff - they need to be securely attached if you intend on adding paneling or drywall. Line up the furring strips. Get your goggles on and using a hammer drill with a carbide tipped masonry bit and begin drilling the holes. Try to stagger the holes so you don't crack the strip. Securely place the sleeve fasteners into the holes. Finally attach the furring strips to the basement wall by tightening the nuts securely.

The rigid foam board insulation has marks that indicate 24" on center. Using a utility knife cut the foam board to fit between the furring strips. Make sure the fire rated side is facing away from the basement wall. These should be cut so they fit snug. Install the rigid board between each furring strip.

Finally, staple a sheet of 6 mil plastic to the furring strips. Make sure all of the insulation is covered and the plastic is smooth. You should be stapling every 6". Trim off any excess. This plastic will serve as your vapor barrier.
Photo Courtesy of U.S. Department of Energy
Related Tips and Advice:
How To Prepare Your Basement For Insulation
How To Remove Moisture From A Basement
How To Frame And Insulate Basement Walls
How To Insulate A Concrete Wall