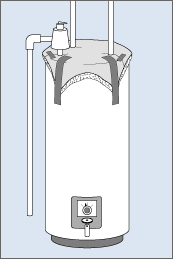 1. The first thing you need to do is to cut the insulation to be fitted on top of the water heater. Make sure it fits around the pipes and tape the cuts you've made with tape.
2. The corners of the insulation need to be folded and taped to the sides of the hot water heater.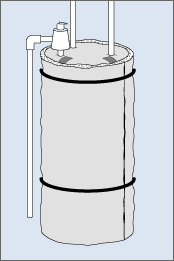 3. Find yourself a helper. Wrap the insulation blanket around the water heater. Have your helper hold it in place while you secure the insulation with the belts. Don't tighten the belts too much or the insulation will lose some of it's r-value. Just make it a snug fit. Make sure the belts don't cover the access panel. If the pressure valve is located on the side of the tank you'll have to make a cut so you don't cover it and tape the seam to seal the insulation blanket.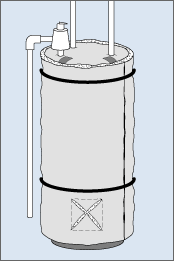 4. Find the access panel. Locate the four corners. Starting in one top corner and going down, make a diagonal cut down to the bottom corner. Do this again with the ot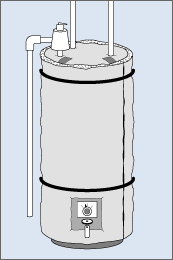 her top corner to make a X cut in the insulation blanket. Fold each piece so it tucks underneath the insulation blanket.

That's it!
Photos courtesy of U.S. DOE
Related Tips and Advice:
How To Insulate Water Pipes With Tubular Sleeve Insulation
How To Insulate Ducts
How To Weather Strip Doors
How Much Insulation Do I Need?